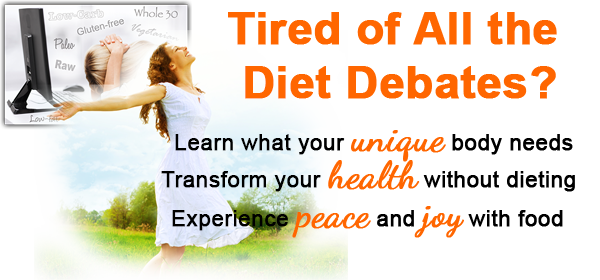 Learn how

to ditch the diets forever! Get the first class FREE here
Get our favorite healthy dessert recipes

FREE here

I have tried many different healthy approaches to eating: juicing, raw, vegan, vegetarian, candida clearing, cleansing, whole foods, high fiber etc. Simply Divine Eating has given me a new way to look at food and helped me make changes from a positive perspective. This is definitely not a deprivation kind of program in any way. It is so nice and refreshing that because it teaches principles it guides you in whatever paradigm best supports you in the whole 'getting healthy' spectrum! It takes complex science and chemistry behind the food we eat and simplifies it to help you evaluate what you put in your mouth each day. And knowing that Angie herself is a busy mom and wife helps give me the hope that I can apply these principles in
my own way and in my own time.

I have done A LOT of study on nutrition, but I have never come across such a thoroughly researched and sensible organization of truth as I have with Angie's class. First of all, her four principles about food are absolutely brilliant! More importantly, her presentations cause me to want to make changes. How does a sugar addict throw away a $9 bag of candy bars and return 2 bags of unopened candy bars to the store? Knowledge! Knowledge is power, and when we choose to act on it, we are deeply blessed with abilities we didn't know we have. I absolutely cannot wait for the rest of this course! I would highly recommend it…very empowering, very enlightening, very sensible, and very true!

Simply Divine Eating is awesome! As I've tried to navigate all the contradictory information on what is "healthy eating" I've felt so confused and overwhelmed. This program has truly made healthy eating simple for me and my family. Each new series leaves me feeling enlightened and empowered to make good changes for my family's health. I recommend Simply Divine Eating to anyone who wants to take charge of their health and struggles to find truth out in the chaos of the food industry. It's completely changed the way we approach food!